Careers
We are Proud as Del to Serve Fresh
We proudly work harder to make fast, awesome fresh Mexican food accessible to everyone, creating delightful moments for our guests.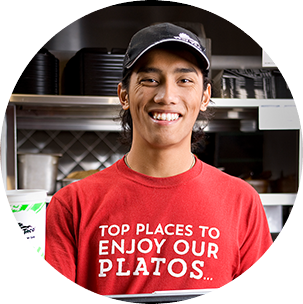 Fresh as Del
Del Taco was founded in 1964 and was one of the first restaurants with a drive thru. Generations have grown up with Del Taco from Tuesday Taco Night with their family to late night burrito cravings. What makes us special is that we serve fresh - we grate our cheese from 40lb. blocks and grill our amazing chicken all day. Ours is a real working kitchen and you can be proud that the hard work you put in is serving something special and better than those other quick serve restaurants.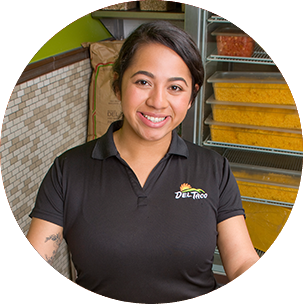 Proud as Del
You want to work somewhere where you are respected and enjoy working with the team around you. One of our core values is that we "elevate each other." That means that part of everyone's job is to help their teammate. Whether it is detailed training on how to learn something new or swapping a shift when you have something personal you need to take care of, you'll be proud to work with a team that truly works together.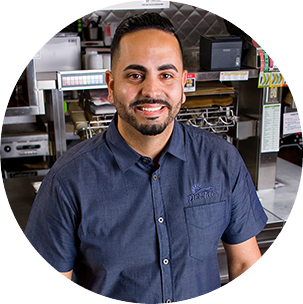 A Day at Del
While we work hard at Del Taco we do it because we know we are providing real fresh food at an incredible value. (Did someone say 16 items for less than a buck?) We keep it fun with regular contests, rotating uniforms and the ability to work in multiple positions. We let you be you - our cashiers introduce themselves to our guests by name, we let you choose between pants or jeans and allow you to express yourself whether that is through the color of your hair or a cool tattoo.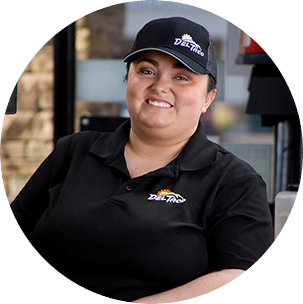 Grow with Del
We all want a chance to grow in our careers and earn more. At Del Taco, we have one of the best career development programs around. The majority of our managers started as team members. Following our training program and putting in the hard work, many of our team members find themselves in a position to be a manager within 1-2 years. At Del Taco, we are people-driven and believe as you succeed we succeed - you'll have a chance to grow at Del like you always imagined.
Working at Del Taco, you'll feel proud that you are part of an iconic brand, where we actually grill, shred and chop fresh ingredients. You'll feel proud that you have a chance to grow and earn more as you work through a realistic and achievable career path. Click on the pictures above to see why you will be "Proud as Del" to work here.
It's not about just doing it, It's about BEING THE BEST at doing it. Learn more about being the best you can be.
Discover your growth potential as a Del Taco Team Member!

Learn about the culture at Del. Watch the video below.
We are people driven, results focused, innovative thinkers, delighting our guests and elevate each other
Our pride is what makes us
Proud as Del!
Legal Disclaimers
This site contains both Corporate and Franchise owned and operated restaurants. You may be applying to a Del Taco owned and operated by an independent franchisee. Franchisees are the exclusive employer of their employees and are solely responsible for hiring and all other employment-related matters.
Throughout the application process, the terms "Company" and "Del Taco" refer to the entity (corporate or franchise) reviewing your application and making any hiring decisions.
Restaurants that are owned and operated by independent Del Taco franchisees are exclusively responsible for determining their organizations' career paths and their own employment terms, benefits and perks. Talk to your local franchise owner or their designee to learn more.
If you are disabled and need a reasonable accommodation to complete the online application process, you or your disignee may contact Del Taco at (949) 462-9300 or hr@deltaco.com.
Del Taco Corporate and its franchisees are equal opportunity employers.