Contact Us

We love to hear from our guests. Do you have a question for us?
Click our FAQ (frequently asked questions) button for the fastest response. Still need an answer or want to provide us with feedback about your experience with Del Taco? Please click on one of the links below so we can better assist you.
FAQ's
General

How can I find out when my favorite Del Taco items will be returning to the menu?

Sign up for our Raving Fan eClub at deltaco.com/ravingfan to receive all the latest product news and exclusive offers.

How can I contact Del Taco about an issue I experienced during a recent visit?

To contact Del Taco, please click on the "Recent Visit Feedback" link above and provide details about your experience.

When will a Del Taco be opening near me?

For a list of restaurants that have recently been opened or will be opening soon, please visit deltaco.com/locations. To get more detailed information, please sign up for our Raving Fan eClub at deltaco.com/ravingfan.

Raving Fan Eclub

How do I update my favorite Del Taco location?

At the bottom of the Raving Fan eClub emails you receive, you can click on a link that reads "Account Preferences," which will take you to a page where you can update your account settings.

I'm having trouble accessing my eClub coupon. What should I do?

Please send an email to socialdel@deltaco.com with your name, email address, and description of the issue.

Nutrition & Allergen Information

How do I find nutritional and allergen information about your food?

Please visit deltaco.com/food and either scroll to the bottom of the page OR select an individual menu item.

Investors and Franchising

How can I open my own Del Taco franchise?

Please visit deltacofranchise.com.

How can I learn more about investing in Del Taco?

Please visit investor.deltaco.com.

App/Online Ordering & Delivery

Can I order online or in the Del App?

Many locations offer order ahead online or through the Del App. To find out if online ordering is available at a restaurant near you, please visit deltaco.com/order or open the Order section of the Del App.

Does Del Taco deliver?

Delivery is available at select Del Taco locations through Postmates, Grubhub, and directly through the Del App. To find a participating location near you, visit Postmates or Grubhub, or open the Order section of the Del App.

Gift Cards

Where can I purchase a Del Taco gift card?

Gift cards are available for purchase at participating Del Taco restaurants and you can purchase gift cards online at deltacogiftcards.com.

How do I find the balance on my gift card?

Please visit deltaco.com/checkgiftcardbalance.

When will the gift card I ordered online be shipped and delivered?

Please allow 2-3 days to process and assemble your order for shipping. If you have chosen USPS, please allow an additional 5-7 days for delivery. If you have chosen expedited shipping, we will provide tracking to follow the progress of your delivery. During our holiday promotion period (Nov-Dec), order processing can take up to 2 weeks prior to shipping.

How can I resolve an issue related to a gift card I ordered online?

You can reach us at deltaco@wgiftcard.com or call 877-859-4757. Please include your order number.

How do I add money to my current gift card?

Del Taco gift cards can be reloaded at any of our participating restaurants in any whole dollar amount from $5-$100. Unfortunately, we do not currently offer a reload option on our website.

What are my online payment options when purchasing a gift card?

We accept VISA, MASTERCARD, and DISCOVER CARD only. Please note that we will not ship your order until we receive valid payment from you.

Media Relations

Who do I contact for media related inquiries?

Please direct all media inquiries to publicrelations@deltaco.com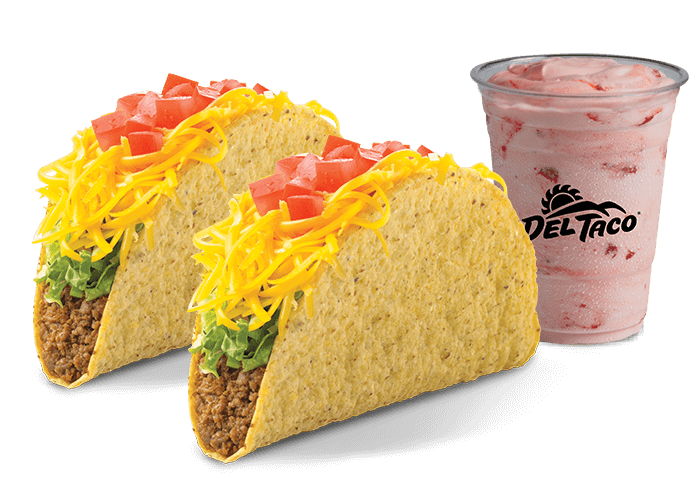 FREE

Shake on your birthday
Choose Vanilla, Chocolate or Strawberry

(Regular-Sized)
Exclusives
Raving Fan eClub members receive exclusive offers like coupons and opportunities to try new products before the general public.
Please allow 24 hours for processing.
Birthday item may vary by restaurant.
*Offer valid for new eClub members only. Not valid for existing Del App members.